Save thousands of dollars by seeing which leases are about to expire with our lease reports
Scan and file documents within the program so you can declutter your office 
See which wells are not paying as much so you can stay ahead of the game
Leave handy reminders by using the note function with date and time stamp
Collaborate with other family, regardless of location, with our Enterprise version
Quickly locate active leases and division orders with search functions 
Prepare income and expense reports for tax filing
Quick, automatic linking of leases, division orders and payments
Print summary reports of oil/gas/mineral revenues by revenue type, state, company, month and more.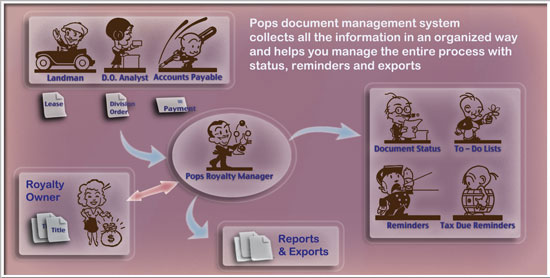 IN DEVELOPMENT
The world is changing and we are too.
Electronic "hands free" input of run statement data
Export formats for Quicken, QuickBooks and Connected Accounting
Support for mobile devices like the iPad
Still not convinced? Schedule an online demonstration to see these features in action!