Upcoming Conventions, Conferences and Shows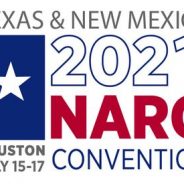 Join the 2021 NARO Texas & New Mexico Convention
July 14 – 17, 2021 – 10:00 AM – 12:00 PM, CST
Join NARO in Houston for the convention July 14-17.  NARO has missed having in person meetings during the pandemic, learning, and socializing with each other. They will be offering the Certified Mineral Manager Review Course and Exams I and II. The exams are only for approved CMM Candidates. They are also bringing back their Mineral Management 101, three hour course prior to the start of the convention.
There is so much going on with our industry right now with being impacted by Federal and State regulations, legislative agendas, bankruptcies, unethical practices and much more. Join NARO in July and learn more about how to keep up with your mineral estate in these trying times.
Visit the event page https://www.naro-us.org/event-4225093 to register.
Visit the event page for pricing, safety guidelines and hotel information.
Brought to you NARO Texas & New Mexico