MODERN. SOPHISTICATED. CREATED WITH YOU IN MIND.
Pops Royalty Manager is a modern lease and royalty tracking software system focused on easing the burden of paper work, reducing your time spent with run statements and document management. You gain the time to work on maximizing the potential of your mineral, oil and gas royalty investments instead of grinding through paper work. Some users have reduced the hours spent on their royalty business by as much as 70%.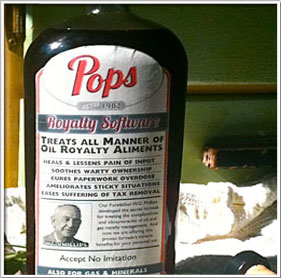 Built on industry standard software by experienced software engineers, Pop's Royalty Manager is a robust solution for your document management needs. The relationships of the documents are drawn together into a rich interface that puts all the important information right in front of you.
Pops is divided into two modules: the Document Module, where all the logic managing document information (leases, deeds, DO's and wells) are kept, while the Revenue Module, handles money, check data and calculations.
All Scanned documents are held in a separate Document Files, where you can access them and Pops can also. All the data you enter is stored in the Database. Because these are separate, the can be stored on a separate machine (a server) or even on a remote computer (a kind of cloud) and accessed or backed up by all who need the information. The data and documents can also be used by other programs or custom tools.
For more information visit our features page.
"User friendly and great customer support. If there is ever a question it is handled immediately. Pops is like a family business. Everyone I have ever dealt with is friendly and helpful. I feel like a friend not just a customer."  – Pat E. from Washington State